A DESTINATION WEDDING IN GIVERNY
A few words from Alexandra and Jon:
"We can't remember the moment when we decided to have our wedding in France or whose idea it was. It's like it just always was. And it was so right for us; Jon's grandfather was from France, and Paris is my favorite city. And we'd had a European trip canceled in 2020 and were itching to go," Alexandra says.
The ceremony and reception were at La Dîme de Giverny—a renovated, 13th century home down the street from Claude Monet's house. "In searching for French towns, we were immediately drawn to Giverny, known for birthing Monet's famous water lily paintings," Alexandra explains. "I can't remember where I first saw a photo of Monet's stunning home. I only remember knowing right away that we had to go, and the rest of the wedding vision fell into place from there. The town is so tiny and walkable; all of Giverny felt like our venue."
Three French wedding planners were interviewed via zoom, and Julie Mazzoleni of L'amour L'amour Paris was ultimately the one. "Before knowing us she seemed even more excited about our wedding than we were," Alexandra says. "We felt like, 'every logistical thing could go wrong but that is the energy we want for our wedding.' All our guests still rave about her to us. My only regret is not getting a photo with her."
Discover this amazing wedding full of love organized, decorated and coordinated by L'amour l'amour Paris!
ALIX & JON'S PREPS
CEREMONY
CLAUDE MONET MUSEUM, GIVERNY
DINNER
PARTY

ALEXANDRA & JON'S REVIEW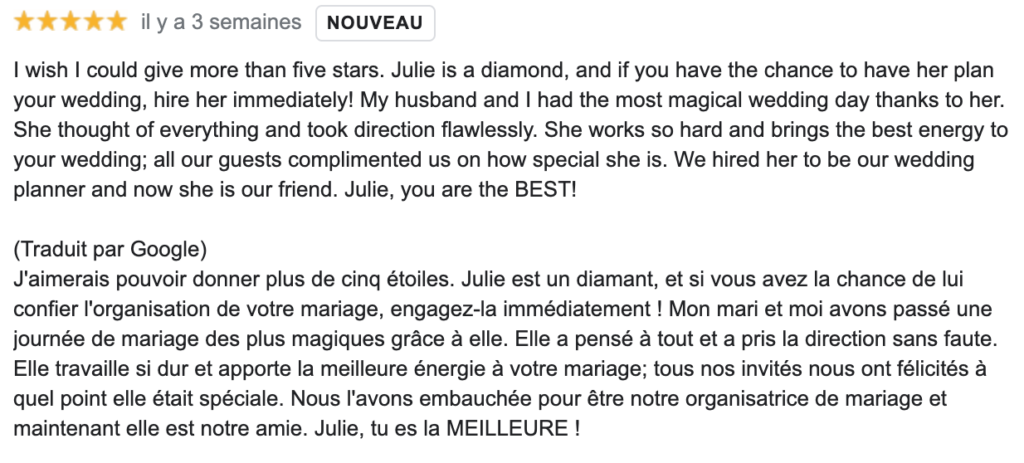 ALEXANDRE & JON'S WEDDING FEATURED IN VOGUE

LA TEAM
Wedding Planner, design et coordination : L'amour l'amour Paris
Photographer : Ashley Randall
Venue : La Dîme de Giverny
Catering : Erisay Traiteur
DJ : Darryl Jones
Barman : V Cocktail Event
Florals : L'Usine à Pétales
Photo Booth : Mister Like That
Rentals : Atawa
Stationery : L'amour l'amour Paris
Make-up : Larisse Kouamen
Hairstyle : Sabine Costanzo
Dress : Danielle Krankel
Wedding Planner
Wedding Planner Paris